---
DETAILS
| | |
| --- | --- |
| Grade | Junmai  |
| Polishing Ratio | 65% |
| Rice Type | Omachi |
| Alcohol  | 16.0% |
| Prefecture | Okayama |
| Brewery | Tsuji Honten |
SAKE SWEETNESS
DESCRIPTION
This is the first release of Gozenshu's new range, the 1859 series, named after the year Omachi rice was discovered. This is a Bodaimoto Junmai Sake.
This sake has a complex nose. Muscat, Strawberries, Raspberries, Banana Bread and some notes of Vanilla. It is clear and structured. 
It is surprisingly dry, with good acidity and umami. It has surprisingly high astringency, with hints of ginseng & nutmeg.
SOMMELIER'S NOTES

Bodaimoto is an age old method pre-dating even the Kimoto method,  It was recreated by a group of young brewers trying to reinvent the ancient styles of sake making. Gozenshu has promised to use only Omachi rice to brew sake by 2022.
AWARDS

Customer Reviews
01/06/2022
dan h.

Singapore
I recommend this product
One of my all time favorite Omachi
Gozenshu makes really good Omachi. I love the flavours and complexity of this bottle
12/30/2021
August O.

Singapore
I recommend this product
Try together with the classic
modern interpretation of bodai-moto. should try with the classic
10/10/2021
Anonymous

Singapore
09/30/2020
thesakecollective

Singapore
I recommend this product
Sweet notes of strawberry and raspberry
ozenshu (@gozenshu) is the brewery responsible for reviving and re-popularising the Bodaimoto method from the old days! Bodaimoto, a method of creating a starter culture for sake brewing, originated at the Shorakuji temple in the mountain of Bodaisen, Nara Prefecture. Bodaimoto is the pre-cursor to the Kimoto method, which many enthusiasts continue to rave about and enjoy. ⠀ ⠀ This sake uses Omachi polished to 65%, and is made with Gozenshu's own Bodaimoto method, where the brewery uses its own choice of sake yeast rather than just allowing wild yeasts from the air to settle into the shubo as it was in the past. ⠀ ⠀ The nose is deep and rather robust. Sweet notes of strawberry and raspberry greets first, followed by notes of steamed rice, banana bread and woody spices. ⠀ ⠀ The palate is rich and very structured. It follows the nose for the most part, with the sweetness of vanilla and grapes, herbal notes similar to ginseng, spices of wood, nutmeg and astringency similar to strong green tea. Amongst those notes, you'll find the mouthfeel very rich with umami throughout, adding depth to an already layered and complex sake. ⠀ ⠀ The finish is crisp, and of medium length with astringency and bitterness almost cleaning up the palate after itself, leaving the senses clear for another sip. This sake should be had around 15-20°C for the best experience. ⠀ ⠀ I've had the pleasure of talking to Alex from Sugidama Blog where he mentioned tasting the bottled Prototype for this sake. I can only imagine how that experience could have been, and I understand that the Prototype was a Nama, which means it could be even beefier and more robust. ⠀ ⠀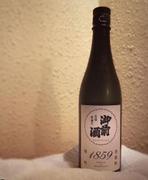 09/29/2020
Wai M.

Singapore
I recommend this product
Another great sake by gozenshu
Didn't love it at first, but after some salty snacks I started to appreciate the dryness! Seems like that's becoming a pattern for me when it comes to karakuchi sakes! Made with Bodaimoto / 菩提もと , the ancient method to kickstarting the whole sake process. Other methods vary in terms of steps, time, manual labour, ingredients and proportion of ingredients. To the undiscerning like me, you prob won't notice much differences. That's why we have to drink more then maybe we can see the difference in body & acidity. In any case, there are far more distinct differences that come from other processes worth understanding before this.