Sake On The Rise: A Fresh New Wave In F&B
ProWine Singapore | September 2022
Honoured to speak with F&B entrepreneurs about the rise of sake and providing insights that will help them in their venture into sake.
Pair that ocean bounty with some sake
CNA | JFOODO | FEB 2022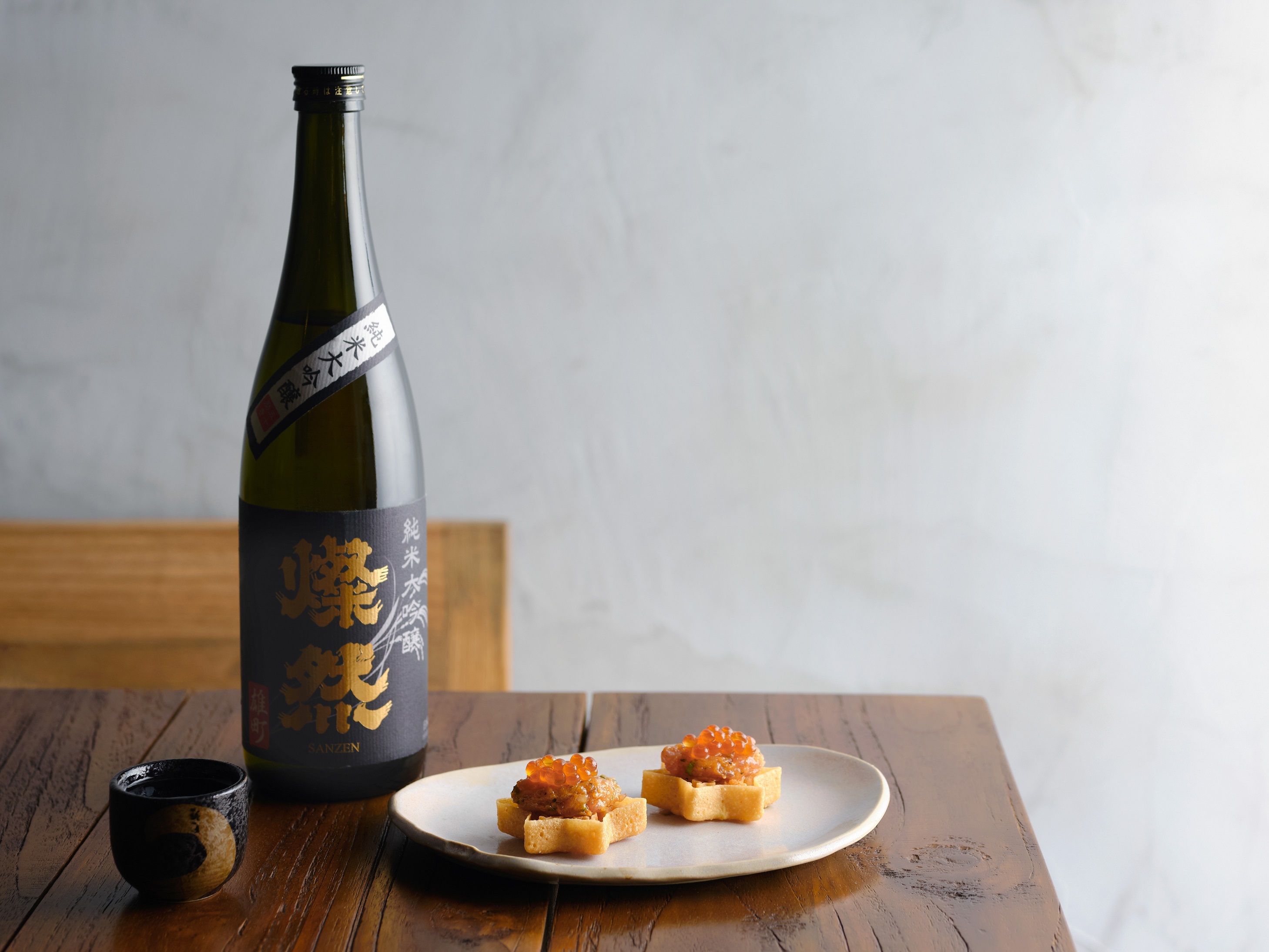 In reality, sake plays a supportive role in delivering flavours with its low bitterness and acidity and is even better when paired with seafood. "Sake is full of umami derived from Koji and the proteins found in rice," Mr Goh shared. "This combines well with various umami components in seafood, creating synergy and new flavours. In addition, sake contains few elements that clash with seafood. In fact, it reduces fishy flavours, creating a more wholesome pairing."

https://cnalifestyle.channelnewsasia.com/advertorial/pair-ocean-bounty-some-sake-300871

From lala bee hoon to shrimp gambas and pizzas: How to pair sake with your favourite seafood dishes
THE STRAITS TIME | JFOODO | FEB 2022
The aromatic and fruity notes of Keigetsu Junmai Daiginjo Cel24 from the Kochi prefecture pairs well with Spanish seafood dishes like soupy saffron rice with seafoods, Venus clams cooked in dry sherry wine, and prawns cooked in garlic chilli and extra virgin olive oil. 
https://www.straitstimes.com/life/food/seafood-loves-sake-campaign-2022-how-to-pair-sake-with-your-favourite-seafood-dishes
---

Here's why sake is getting popular with consumers these days
The Peak Magazine / Dannon Har / February 2022
Covid-19 created an opportune moment, with the last two years giving rise to many new touch points for Goh to spread his love for sake. The pandemic "actually created a lot of opportunities for consumers to get closer to the producers."
Goh says, "Previously, if you wanted to learn more about a sake brewery, you would have to visit the brewery in Japan. We often hold talks with brewery owners and brew masters using technology like Zoom. As a result, more people have sought official certification with education providers of Japanese sake, resulting in a more discerning local consumer base."
https://www.thepeakmagazine.com.sg/gourmet-travel/sake-sommelier-covid-new-misconception-education-local-booming/
---

Best Alcohol Delivery Services in Singapore
Expat Choice | Shivang | July 2021
Oh for God's sake, please call for some sake! This one is all about your favourite fermented rice drink. Take a trip to Japan with Inter Rice Asia's menu focused around tantalizing versions of the all time favourite sake. They have everything from junmai to honjozo to daiginjo which originates in different regions in Japan. Moreover, you can go through the menu to look for your preferred flavours. The list is pretty diverse...
https://www.expatchoice.asia/eat-drink/best-alcohol-delivery-services-singapore
---
Daishichi, the sake brewery defying the mainstream in pursuit of their craft
Spill Magazine | Dannon Har | June 2021
Flat rice polishing, anoxic bottling, and the kimoto method. If these terms used in sake making sound somewhat alien to you, fret not, it's also unfamiliar to many of Japan's sake brewers today.
Yet, these are just some of the ways Daishichi – a sake brewery in Nihonmatsu, Fukushima – has employed to make sake the way they deem fit.
We recently had a vertical tasting of seven of the award-winning brewery's sakes as it took on new distributorship in Singapore, and found their range of brews to be wonderfully complex, though perhaps hard to grasp at first...
Still, it's in their ideals where we found the most reason to love a Daishichi brew. Edited for clarity, a sentence on their website reads: "When talking about sake, it's meaningless to say what rice polished down to what ratio was used in the brewing."
In a world where sake is immediately given attention or dismissed simply based on the amount of polishing that went into each grain of rice, we like how a brewer (in a highly conforming culture, no less) is making a stand to point out how pointless that mentality actually is.
They're just doing what they do best, staying away from vanity projects, while putting in the hard and smart work needed to ensure improvement upon their craft one step at a time. That's something we can definitely kanpai to.
https://www.spillmag.com/features/daishichi-sake-brewery-kimoto-method-flat-rice-polishing/
---
Inter Rice Asia lands Singapore distribution rights for coveted Daishichi sake
Spirited Singapore | Daniel Goh | June 2021
Distinguished Fukushima-based sake brewery Daishichi sake has appointed Inter Rice Asia as Singapore distributor for its lauded kimoto sakes.
Leading Fukushima Prefecture-based Daishichi has officially appointed Inter Rice Asia as its Singapore distributor to represent its range of sakes.
Daishichi, which was founded in 1752, like many other progressive sake breweries combine traditional sake making methods with the use of modern technology to produce its quality brews. The brewery, based in the castle town of Nihonmatsu, is best known for being one of the bare handful of breweries in Japan still using the old-school kimoto method to produce sake.
https://www.spiritedsingapore.com/2021/06/inter-rice-asia-daishichi-sake/
---
Singapore online alcohol delivery services: Your ultimate 2021 Edition
Spirited Singapore | Daniel Goh | May 2021
Drinking at home has been on the rise, but as a trend it has particularly accelerated over the past year. Lockdowns and other coronavirus measures have made drinking at our favourite watering holes pretty much impossible, limiting any form of imbibing to the home.
One of the earliest sake distributors in Singapore, Inter Rice Asia has an extensive portfolio of premium Japanese sake covering almost all sake-producing prefectures, as well as other alcoholic beverages. Brands to look out for include Keigetsu from Kochi, Yamagata's Dewazakura, Manotsuru from Niigata, and the recently-released Sakari from Nada's Nihonsakari in Hyogo. Also fun are their On Nomi sake tasting kits and discovery boxes.
https://www.spiritedsingapore.com/2021/05/singapore-online-alcohol-delivery-services-your-ultimate-2021-edition/?
---
Are more expensive sakes really better? How to pair sake with your food
CNA Luxury | Lin Wei Wen | May 2021
Expensive or high-grade sakes taste elegant and complex but they don't make the best combination for food pairing. Here's what you need to know about sake pairing.
Adrian Goh, director of sake distributor Inter Rice Asia, said: "In wine pairing, we make it work by complementing or contrasting the flavours of the food and the wine. For sake pairing, we go for a marriage between the sake and the dish. The goal is to have balance, where neither the food nor sake overwhelm each other.
"More expensive or higher-grade sakes are more difficult to pair with food. They are usually more delicate and have less umami. I'd usually drink Ginjo and Daiginjo on their own or with white fish or food with lighter, elegant flavours."

Goh added that pairing a cold sake with a warm stew or a seafood hotpot may be "jarring". "I would pair it with a warm or room temperature Junmai with lactic characteristics. This will give the pairing a more harmonious element.
https://cnaluxury.channelnewsasia.com/experiences/how-to-pair-expensive-sake-with-food-14747466
---
Sake exclusives and where to find them
Epicure | June Lee | May 2021
Japan is the top travel destination for Singaporeans, based on numerous polls. In 2019, Singaporean travellers spent more than S$1 billion in Japan, according to the Japanese Tourism Agency. Now that travel is restricted, Singaporeans have turned to the next best thing – eating and drinking their way through local Japanese restaurants. No wonder that we've seen a slew of new sake launches and restaurants lately. 
Modern sake for modern taste
In line with Sakari sake's global outlook, the brand's new range of five sakes were launched in Singapore by importer Inter Rice Asia. The five bottlings are Yuzu ($47), Junmai Daiginjo (price not available), Daiginjo ($50), Junmai Ginjo ($45) and Junmai ($38), each branded in a different colour and with product description in English.
Interestingly, Sakari is the brainwave of Nihonsakari, one of the larger brewers in Japan and one of the few that started as a collective of five founders rather than as a family brewery. That's why the new brand logo for Sakari features what looks like a five petalled sakura flower but is actually made out of five modern sake glasses, poised as a toast. The luxe, contemporary look helps drive the message that these sakes are at home with any cuisine around the world, rather than a strictly Japanese product.
https://www.epicureasia.com/drinks/17518/sake-exclusives-and-where-to-find-them/
---
Sake Enjoyment at a new high


The Straits Times | Anjalil Raguraman | April 2021


Sake, the Japanese fermented rice beverage, is making a comeback here.
From a series of sake bars opening over the last six months to e-commerce platforms offering sake home deliveries, there has never been more interest in imbibing and learning about the brewed alcohol here.
Industry players The Sunday Times spoke to agree that Singapore is a fast-growing market for sake consumption.
"There was plenty of hype around sake four to five years ago, but now there's a second wave," notes Mr Adrian Goh, 39, director of sake distributor Inter Rice Asia.
He believes it is driven by the rise in popularity of craft alcohol, among other factors.
"People worldwide are drinking less but spending money to drink better alcohol, with the belief that small-batch producers are better. And who are better craftsmen than the Japanese? Many sake brewers date at least six generations back, with the same family brewing the same product."
Sommeliers, says Mr Goh, who is also a sake educator, have also been instrumental in influencing consumer preferences and driving demand for sake at quality dining establishments.
"As sommeliers become educated in sake, they become ambassadors for it and make it more approachable," he says. "Now sake consumption is gaining critical mass."
---
Sake brewer Nihonsakari unveils modern look, vegetarian certification in major revamp


Spill Magazine | Dannon Har | March 2021


One of the world's largest sake breweries, Nihonsakari, has undergone a revamp – a rarity for such a longstanding major Japanese label – revealing a new brand logo, bottle designs and recipe changes to its core range and beyond.
---
Sakari Sake: Designing for a new world of sake


Spirited Singapore | March 2021

Prestigious Nada sake producer Nihonsakari reinvents itself by launching Sakari, a new sake line targeted at a more contemporary, international audience.
If there's one thing Japan is known for, it's that it is a nation steeped in culture and tradition. The island nation spent thousands of years in isolation – some of it self-enforced during its Tokugawa era – and over time developed a traditional culture that is truly uniquely its own. By the Meiji period, Japan welcomed modernity; the country embraced technology and new things like no other country before, nor any other country since.

"What we are doing with Sakari is simply translating our sake to be easier understood by people from different cultures," explained Arito Mori, Manager of International Division at Nihonsakari, who manages the company's Sakari brand.

https://www.spiritedsingapore.com/2021/03/sakari-sake-designing-for-a-new-world-of-sake/

Elizabethheartz | March 2021
Fancy some sake at the comfort of your home? Nihonsakari is with one of the world's biggest Saké breweries and supplier to the Japanese imperial household since 1913. 
Within ten years of its existence, Nihonsakari became the one of the top Saké breweries in the Nada Go-go area (Five regions of Nada and the birth place of Saké) and twenty-six years later, they were selected as the purveyor of Saké for the enthronement ceremony of Emperor Taishō
Foodielicious | October 2020

Inter Rice Asia is rolling out a virtual Sake On-nomi event fortnightly. Combining the words "Online" and "nomimasu (to drink)", the Sake On-nomi seeks to bring fans of this popular Japanese alcohol together via a Zoom drinking session.
I happened to join their 15th session – Toko's Virtual Brewery Tour – where we get an exclusive virtual sake brewery tour of Kojima Sohonten (which makes the Toko and Kojimaya Sake brands) in Yamagata.
http://www.oo-foodielicious.com/inter-rice-asia-sake-event/
---
Sake Guide: An Introduction to Ginjo, The Delicate & Fruity Sake Style Layered with Complex Flavours
City Nomads | September 2020
Many of us start on our sake journey at Japanese restaurants where "warm" and "cold" sake are the only options. But this fermented rice brew is available in different grades and styles, where factors like how much the rice is milled and whether distilled alcohol is added during the brewing process come into play. In continuation of our series of boozy beverage guides and ahead of World Sake Day on 1 October, we're delving into Ginjo-shu today – the middle grade sake that's fragrant, tasty and (usually) friendly on the wallet.
https://citynomads.com/sake-guide-an-introduction-to-ginjo-the-delicate-fruity-sake-style-layered-with-complex-flavours/
---
Current Situation of Sake Market in Singapore in light of COVID-19
Vivid Creation | May 2020
The F&B industry in particular is heavily affected by COVID-19. The Japanese Sake market has been steadily growing, with the amount of imports increasing yearly.
Sake Sommelier Adrian Goh from Inter Rice Asia, shared with us some of the efforts and market forecasts in light of this situation. 
新型コロナウイルスの影響が特に大きい飲食業界。
その中で、年々日本からの輸入金額が増え、シンガポールで着実に人気が高まっている日本酒市場に関して、日本酒輸入代理店Inter Rice Asia の Adrian Goh氏に、コロナ禍のシンガポールの日本酒市場の現状、現在の取り組み、市場予測について、お話を伺いました。
https://www.vivid-creations.biz/blog/covid19-impact-singapore-market-japanese-sake-2020/
---
Journeying into the F&B and Sake Industry
One&Co | April 2020
After a recent panel discussion for Japanese Companies looking to expand into Singapore. I was invited for a casual interview with Leia Teo of One&Co Singapore. 
While most beers are casual and meant for easy drinking, craft beers carry a certain sort of artisan appeal. On the other hand, when Japanese whisky started to get the spotlight, people started taking note of the quality of the Japanese alcohol. The Japanese seem to represent the epitome of Craft. Japanese Sake also seems to rest right in the middle of the craft alcohol and Japanese alcohol boom.
https://www.oneandco.sg/voice/journeying-into-the-fb-and-sake-industry-with-adrian-goh
---
Ultimate Guide to Online Alcohol Delivery Services in Singapore
Spirited Singapore | April 2020
One of the earliest sake distributors in Singapore, Inter Rice Asia has an extensive portfolio of premium Japanese sake covering almost all sake-producing prefectures, as well as other alcoholic beverages.
https://www.spiritedsingapore.com/2020/04/guide-to-online-alcohol-delivery-services-singapore/#Sake
---
5 sake delivery services in Singapore we love
SG Magazine | April 2020
The stalwart of Singapore's sake scene, Inter Rice is easily the place to go to for serious sake buyers. Their stock is vast, they've got everything from aged sake to nama (unpasteurised) sake, unfiltered ones to treasured 1.8L bottlings. Whatever your preference is, they've probably got it. Free next-day delivery for orders above $250.
https://sgmagazine.com/home-nightlife/news/online-sake-delivery-singapore
---
Where to buy Sake in Singapore: Online Retailers & Physical Stores for some of Japan's best Nihonshu
City Nomads | April 2020
In Singapore, many of us are intimately acquainted with beers, wines, and cocktails. But what about Japanese sake? Made from fermented rice that's been polished to remove the bran, it's often referred to as nihonshu in Japan to distinguish it from other categories of alcohol. The oldest sake brewery dates all the way back to the 15th century, and the drink continuing to be Japan's national beverage till today. Here's where to get a bottle for your next sushi party!
https://www.citynomads.com/where-to-buy-sake-in-singapore-online-retailers-and-physical-stores-for-some-of-japans-best-nihonshu/

https://www.asiaone.com/lifestyle/where-buy-sake-singapore-online-retailers-and-physical-stores-some-japans-best-nihonshu

---
What You Need to Know before Becoming a Successful Japanese F&B Distributor
One & Co | March 2020
Supporting JETRO's program to support Japanese SMEs looking to expand to Singapore. Adrian Goh was there as a panelist to discuss introducing Japanese products to Singapore
https://www.oneandco.sg/tips/japanese-fb/
---
Future 50 Award
WSET & IWSC | November 2019
Adrian Goh given the Future 50 award from WSET and IWSC.
The Future 50 have been identified as the wine, spirit and sake industry's up-and-coming young professionals from all areas of the trade who have made a significant contribution in the last three years in a range of areas including, career, academia, social responsibility and innovation.
There were more than 600 nominations for the first round, a longlist of professionals working as winemakers and distillers, in product development, design and distribution, marketing, journalism, hospitality and everything in between. Choosing the winners was an exhaustive two stage vetting process using the knowledge and authority of an illustrious panel of expert judges from around the world.
https://future50.wsetglobal.com/
https://www.wsetglobal.com/news-events/the-future-50-awards/adrian-goh-de-jun-sake/

---
Raising Chinese Spirits - Made-in-China wine, baijiu and sake aim at the Singapore market
Business Times | October 2019
Quoted on an article in Business Times regarding Sake from China.
https://www.businesstimes.com.sg/lifestyle/feature/raising-chinese-spirits
---
When to Enjoy Hot or Cold Sake
Keyyes | August 2019
Sharing about drinking sake at different temperatures
https://keyyes.com/when-to-enjoy-hot-or-cold-sake/

---
Pairing Imayotsukasa Junmai Daiginjo with Soft Cheese 
Epicure Magazine | March 2019
https://www.pressreader.com/similar/281517932414457
---
Japanese Sake Market in Singapore and Sake Matsuri Spring 2019 
938Now | March 2019
Radio Interview with Charlotte Mei on 938now talking about Japanese Sake Market in Singapore and Sake Matsuri Spring 2019.

---
Great Buys at ST Wine Fair
Straits Times | July 2018
Senkin Modern Omachi and Hideyoshi Daiginjo advertised as great buys at the ST Wine Fair.
https://www.straitstimes.com/lifestyle/food/great-buys-at-st-wine-fair
---
An Indian man from Singapore has been crowned the sake sommelier of the year
Coconuts.co | June 2018
Quote on Sake Growth in Singapore on Coconuts Singapore
https://coconuts.co/singapore/news/indian-man-singapore-crowned-sake-sommelier-year/
---
Savvy Way to Drink Sake
Straits Times | May 2018
Feature on Kamoizumi Shusen, Keigetsu John Sparkling, Senkin Modern Muku, Kiminoi Junmai Daiginjo Yamahai and Imayotsukasa Koi Nishikigoi on Straits Times.
https://www.straitstimes.com/lifestyle/savvy-way-to-drink-sake 
---
The Art of Saké 
Doyenne.sg | May 2018
Write on Sharing the joys of sake on doyenne.sg
http://doyenne.sg/the-art-of-sake/
---
The Rice Is Right
Parched.asia | January 2018
Drinking with the Parched team at Kimoto Gastrobar
http://parched.asia/everything-to-know-about-art-of-sake/
---
How to Drink Sake like the Japanese 
 SG Magazine | April 2017
Teaching SG Magazine about why to use wine glasses to drink sake
https://sgmagazine.com/restaurants-bars/article/how-drink-sake-japanese-bite-japan
---
Adrian Goh, Marketing Director of Inter Rice Asia | Asian Entrepreneur
The Asian Entrepreneur | July 2016
An interview with Adrian Goh on asiaentrepreneur.org.
https://www.asianentrepreneur.org/adrian-goh-inter-rice-asia/