---
DETAILS
SAKE SWEETNESS
DESCRIPTION
Using cutting edge technology to remove enzymes so that this Namazake can be stored at room temperature. A soft texture with a big flavour, this Honjozo that is pleasant to savour with richer foods. Portable, lightweight and eliminates the need for glasses.
SOMMELIER'S NOTES

One of my favourite Honjozos. Very robust flavour and body, with a lot of flavour. Great for sake bombs. 
AWARDS

Texsom 2021 - Silver Medal
IWC 2020 - Silver
Los Angeles International Wine Competition 2017 - Gold
Texsom International Wine Awards 2017 - Silver
Customer Reviews
08/01/2021
Jchow

Singapore
I recommend this product
Good size
Perfect size for a pick me up drink for 1. Love the robust taste. Perfect to end a work day!
12/30/2020
Mitsui.sakenoob

Singapore
I recommend this product
Overall this is a very good sake
Color - Light Green Aroma - steam , , Alcohol Taste - Medium Umami - Medium First impression - Fresh Body - Medium Sweetness - Medium Dry Tail/length - Long Overall - First time trying a can . Very interesting indeed especially since is a Honjozo Namagenshu. Nama 生酒meaning not pasteurized (normal are pasteurized twice) and Genshu 原酒meaning undiluted with no alcohol added. The medium dry sweetness really compliment the body of the . With medium taste and umami, this will enhance any food it is paired with. Being a 生酒, the alcohol percentage is at 19%-20%. Overall this is a very good although it is canned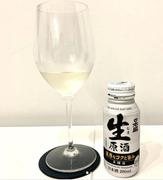 10/05/2020
wanee a.

Singapore
I recommend this product
surprising very nice
surprising very nice . flavourful and a bit sweet. quite smooth.
07/27/2020
Dan H.

Singapore
05/28/2020
Patrick A.

Singapore