---
DETAILS
| | |
| --- | --- |
| Grade | Junmai Daiginjo |
| Polishing Ratio | Secret |
| Rice Type | Secret |
| Alcohol  | 16.0% |
| Prefecture | Niigata |
| Brewery | Imayotsukasa Shuzo |
SAKE SWEETNESS
DESCRIPTION
In "Koi NISHIKIGOI", the grade and rice is kept a secret – this is to allow one's sense of smell and taste to be surprised, appreciating its flavour and aroma without sight and knowledge of it.
Good intensity and umami. Lactic acidity, refreshing with slight heat on the finish. Nice tropical fruits and rice aromas. Well balanced with umami and sweetness. It would be good to try it warm.
SOMMELIER'S NOTES

The beauty within is equally matched by the beauty without as the bottle that houses Nishikigoi Saké is artfully crafted by Yamaharu Glass Co. The distinctive red-on-white pattern that mimics the Kohaku variety of Koi has been the recipient of numerous design awards, making each unique bottle a collector's item.
AWARDS

IWC Sake 2016 - Silver Medal
Cannes Lions International Festival of Creativity Bronze - France
The One Show Gold - U.S.A.
iF Design Award - Germany
A' Design Award Platinum - Italy
FAB Awards Gold - U.K.
D&AD Awards Graphite - U.K.
Pentawards - Belgium
Design for Asia Award Bronze - Hong Kong
Topawards Asia
OFFER

For a limited time, we are running an offer, Buy 3 bottles of Nishikigoi and get a free box of 6 limited edition Schott Zwiesel Sake glasses

You may also buy the glasses here:
https://theartofsake.com/collections/new-arrivals/products/limited-edition-bar-selection-sake-glass
 
Customer Reviews
07/09/2020
Sherwin L.
Singapore
I recommend this product
Wanted to get something impressive for the in-laws.
Impressed the in-laws
06/25/2020
Anonymous
Singapore
I recommend this product
Design Excellence
Very Japanese to pay such attention to visual presentation which greatly enhances the taste. The design of the bottle and box is a work of art. Also linked to a good story about goldfish sake and contrast this to a brocaded koi fish (Nishikigoi) which brings to attention the commitment to quality by the brewery. I think this makes a good Chinese New Year gift. Red for good luck and fish for prosperity.
06/09/2020
Anonymous
Singapore
I recommend this product
Koi sake
Very delicious sake
I recommend this product
Feels more balanced on the 2nd day
Appearance: Clear, very slightly yellowish appearance with high viscosity. Nose: Cooked rice, cooked green bean, resin, soil, dried leaves, fresh cream, custard, yoghurt, wild flowers, caramel. Palate: Cooked rice, cooked green bean, resin, soil, dried leaves, roasted nuts, dark chocolate, white pepper, caramel. Body: Medium. Alcohol: Medium (+) Umami: Medium. Acidity: Medium. Personal opinion: Sake has a clear, very slight yellowish appearance with high viscosity. Intensity of aroma is medium, with some complexity observed. Very starchy, earthy and woody notes were observed. As the temperature of the sake slowly rise towards room temperature, you can start to notice sweet floral and some lactic notes. Similar notes were observed on the palate, with some additional spice notes this time. Sake has a medium body (smooth and velvety texture) and is slightly dry. Some attack was felt, and it ends off with a long and lingering dark chocolate-peppery aftertaste. To be honest, with the starchy and earthy/woody notes + the body, it taste like a Tokubetsu Junmai Genshu or Junmai Daiginjo Genshu. And probably Gohyakumangoku based on the other sakes they make, with some slight possibility of it being an Omachi. Astringency is rather high, and with the umami, I might go with some fried food or yakiniku. Very mysterious sake, full of characters. 1st Day after opening: Flavours seems to be mellowed down, likewise for the astringency. It felt a lot more balanced compared to the previous day.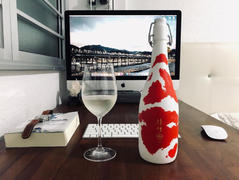 06/03/2020
Anonymous
Singapore
I recommend this product
Fantastic
Pleasant smooth and taste are really good.