---
DETAILS
| | |
| --- | --- |
| Grade | Junmai Daiginjo |
| Polishing Ratio | 38% |
| Rice Type | Yamadanishiki |
| Alcohol  | 15.0% |
| Prefecture | Hyogo |
| Brewery | Nihonsakari Co. Ltd |
SAKE SWEETNESS
DESCRIPTION
This is a upgrade to the beloved Souhana Junmai Ginjo who have been loved for more than 100 years. Rice driven aromas, with hints of apple and white grape. Creamy mouthfeel, rich body while being clean and structured. This sake matches well with Tempura, Unagi, Beijing Duck and Sweet and Sour pork.
SOMMELIER'S NOTES

This sake was designed for the coronation of current Japanese Emperor Naruhito in 2019. Its striking bottle design and bold yet elegant taste is testament to the purpose of this brew. It is sometimes given out as gifts to the guests to the imperial palace.
AWARDS

Customer Reviews
07/09/2020
Nicholas C.
Singapore
I recommend this product
We like this one
We like this one
07/06/2020
Anonymous
Singapore
I recommend this product
Aromatic and slightly sweet well balanced sake
Taste good at room temperature too.
06/26/2020
Patrick A.
Singapore
I recommend this product
Can't Go Wrong with this Sake
Appearance: Clear, very faint yellowish appearance (almost colourless) with high viscosity. Nose: Apple, pear, melon, pineapple, fresh milk, fresh cream, yoghurt. Palate: Pear, melon, fresh milk, fresh cream, yoghurt, nutmeg, white pepper, dark chocolate, mandarin orange. Body: Medium (-) Alcohol: Medium. Umami: Medium. Acidity: Medium (-) Personal opinion: Intensity of aroma is medium, with some complexity observed. Ginjo-ka and lactic notes are very evident on both the note and palate. On the palate, additional spice notes notes were observed as well, though they manifest more evidently as aftertaste. Sake has a medium body (smooth and light texture) and is slightly dry bordering on slight sweetness. Some astringency can be felt, which I have some issues distinguishing it from dryness. Some attack was felt, and it has a slightly long finish with a lingering peppery-dark chocolate developing into mandarin orange aftertaste. The depth and character of this sake makes it quite versatile to pair with food, especially those with medium intensity flavours. You can't go wrong with this sake, unless it was kept badly.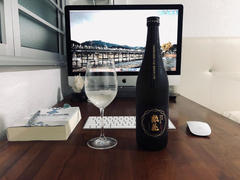 05/23/2020
AK
Singapore
I recommend this product
Recommended
Opened it today, well balance with hint of sweetness. Clean finish and suitable with oily food. Good on it's own or with sashimi fatty fish.
05/17/2020
Milton Q.
Singapore
I recommend this product
Nice with baked pistachios
Off-clear colour, chalk, lead pencil/wood, coconut husk, lime zest, 2ndDay - Musk melon, white pepper, floral honey, seaweed, anchovies, Medium to light mouthfeel, rich, coconut flesh/oil, ginger, bitter-sweet. Nice also with baked pistachios. 2ndDay - High spice, long sweet flavour, coconut juice, dry juicy finish.