---
DETAILS
SAKE SWEETNESS
DESCRIPTION
A unique offering which has been fermented in a traditional wooden sake tank. This lends vanilla and cedar notes, on top of straw and fragrant mushrooms. A slight pleasant astringency can be found on the palette, and the flavors are gentle and calming.
SOMMELIER'S NOTES

This sake has a very strong cult-appeal in Japan. Imayotsukasa revived the process of fermenting sake in wooden barrels in 2010. It was often sold out due to small production. In recent years, they have raised money through crowd funding to purchase 2 new large wooden barrels to brew this sake in.
AWARDS
Customer Reviews
05/28/2020
Patrick A.

Singapore
I recommend this product
Very easy to drink
Appearance: Clear, colourless appearance with high viscosity. Nose: Melon, pencil shavings, cedar, resin, oak, banana, yoghurt, fresh milk, custard. Palate: Melon, pencil shavings, cedar, resin, oak, banana, pear, pineapple. Body: Light. Alcohol: Medium. Umami: Medium. Acidity: Low. Personal opinion: Sake has a clear, colourless appearance with high viscosity. Very woody and lactic aroma were noted on the nose, with some Ginjo-ka observed as well. On the palate, the woody notes remain, and Gingo-ka becomes more apparent. Low intensity of aroma and some complexity were observed. Sake is light for Junmai Daiginjo, and it's dry. Weak attack was felt, and it ends off with a crisp finish and lingering woody-ness and fruity notes as aftertaste. This is a very light sake with some really delicate notes on the nose and palate, especially as a Junmai Daiginjo. Very typical as a so-shu. It's the kind of sake which you can either pair it with food (something light in flavour), or simply just a drink by itself without any food. Very easy to drink. ごちそうさまでした。 3rd day after opening: Nose: Intensity of the aroma now is probably a medium. Ginjo-ka is more pronounced now; the woody notes is still present, but it's not so apparent now. Lactic notes still present. Palate: Similar observation as the impression on the nose.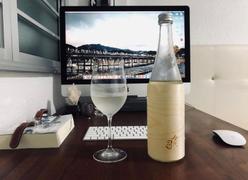 05/23/2020
AK

Singapore
unexpected
It's a pleasant sake but the wood was nowhere to be found, didn't get the extra vanilla or wood flavor in the sake.