---
DETAILS
SAKE SWEETNESS
DESCRIPTION
An age old method pre-dating even the Kimoto method, this creates a playful sake with a full mouthfeel, zesty sweetness and flavors of ripe fruit. Perfect for cheeses.
SOMMELIER'S NOTES

Great balance and unique flavour. This is one of the flagships of Tsuji Honten. The home of young brewers trying to reinvent the ancient styles of sake making.
AWARDS

Customer Reviews
09/29/2020
Wai M.
Singapore
I recommend this product
I highly recommend this one
にごり Nigori is a type of sake that is cloudy. The cloudiness comes from rice sediments that pass through the cloth filter during pressing. While all sake is filtered, the amount of rice sediments depends on how coarse/fine the filter is. I'm not sure where the line is for being termed nigori-zake because I've seen some (like this one) that still seem clear. The sediments give sake more body and texture, some might say chalky, but all I know it pairs easily, especially spicy food A similar beverage would be Korean makkeoli makgeolli. I highly recommend this one, balanced sweetness and refreshing acidity for maximum drinkability. Some sakes are just too sweet ("cloying") or one dimensional.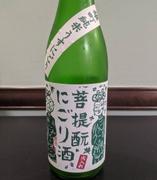 I recommend this product
Nice balance of flavours
Appearance: Cloudy, slight yellowish appearance with high viscosity. Nose: Fresh apple, pear, melon, grapefruit, fresh cream, steamed rice. Palate: Steamed rice, melon, banana, fresh cream, grape fruit, white pepper/cinnamon, cooked green beans. Body: Medium. Alcohol: Medium. Umami: Medium. Acidity: Medium. Personal opinion: Sake has a cloudy, slight yellowish appearance with high viscosity. Intensity of aroma is medium, with some complexity observed. Very fruity notes on the first impression. As the temperature of the sake slowly rise towards room temperature, you can start to notice more starchy and lactic notes. On the palate, more starchy notes were observed, with some fruity and spice notes as well. Sake has a medium body (smooth, velvety and soft texture) and is slightly sweet. Some attack was felt, and it finishes off with some lingering tangy *** slight-cinnamon/peppery (or perhaps nutmeg) aftertaste. Very interesting character, somehow reminds me of that Born I had a few months back. It has a nice balance of flavours, and it's not overwhelm by either the aromatic notes or flavours.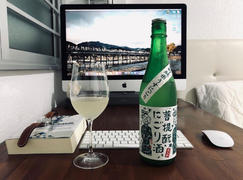 05/01/2020
Patrick S.
Singapore
03/09/2020
Adrian P.
Singapore
The most unique Nigori
I like nigori sakes, but this is something different. It has a lot of complexity and nuance.