---
DETAILS
SAKE SWEETNESS
DESCRIPTION
Very pure ginjo aromas that consists predominantly of Melon & Nashi Pear. Juicy with good structure and body as expected from a Junmai Ginjo Genshu. It finished clean and dry.
SOMMELIER'S NOTES
You can feel its rich flavor with the fragrance and sweetness as if you were enjoying ripened fruits. 
AWARDS

IWC Sake 2020 - Silver
U.S. National Sake Appraisal 2016 - Gold Award
The Fine SAKE Award, Japan: Grand Gold Medal three years in a row.
Customer Reviews
12/17/2020
missionsgcafes
Singapore
09/29/2020
Wai M.
Singapore
I recommend this product
great to pair with chicken
Water is commonly added to the brew before storage to reduce the alcohol level to below 15%. Without its addition, the undiluted sake is called genshu 原酒. This often brings out more aroma, texture & finesse. The whisky equivalent terminology would be cask strength, but in the case of sake, the alcohol is not necessarily more noticeable. In the case of this Toko Junmai Ginjo Genshu, it was...making it great to pair with chicken kaarage!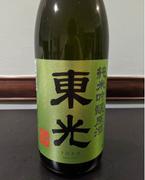 one of my fav
fragrant and smooth. easy to complement meat and asian food with this sake.
05/11/2020
Jared L.
Singapore
Nice sake!
Great product, flavourful and semi dry
05/09/2020
Patrick S.
Singapore