---
DETAILS
For the 6th IRA Sake On-nomi, we will be doing a namazake tasting! Namazakes are sakes that have not been pasteurised. This gives it a fruitier and fresher taste.

We have 5 x 80ml sample Sake in a tasting flight. We will also make this sake set available in a full bottles.
This will be fulfilled and delivered on the late afternoon of Wednesday, 24 June 2020. 
The individual bottles, and the full bottle set will be available at a discounted rate for 1 week from the date of tasting. The full bottle set will include 3 x Nihonsakari Daiginjo Nama Genshu 200ml.


Namazake Selection Sake Tasting Set 
1. Imayotsukasa Summer Junmai Nama Genshu
Limited Seasonal Release, this Summer Junmai Nama Genshu has 18% alcohol and is recommended drunk on the rocks on a hot day.

2. Kamoizumi Zoka Junmai Nama
Zoka is the name of the Yamadanishiki Ricefield just 6km from Kamoizumi brewery. very refreshing with a hint of spice

3. Gozenshu Junmai 1859 Prototype Omachi x Bodaimoto
1859 is the year that the original sake rice "Omachi" was discovered. Made with a ancient method, this sake is bold, tasty and unique.

4. Shinomine Junmai Daiginjo Aiyama Muroka Nama Genshu
This sake is sweet, sour and full-bodied, which is influence by the phantom brewing rice "Aiyama". It is a Muroka Nama Genshu

5. Nihonsakari Daiginjo Nama Genshu
Although technically a namazake, this sake has been treated with a nano-filter to remove elements that causes namazake to go bad easily. Thus, it can be stored at room temperature.

We will include a tasting sheet for the on-nomi.


PRODUCT TAGS
Customer Reviews
07/24/2020
Happy_with_Sake

Singapore
I recommend this product
Namasake inspired dinner
This is a long over due review. Was sunk into the new normal of unstoppable virtual work and meeting till this great virtual sake tasting. This is one of the best Sake tasting I had this year and during the tasting, I tried some cheese with it as recommended by Adrian. Post tasting session, the umami from the Namasake inspired me to get the king crab legs to go along with it and chilli and butter cream crab the following weekend. Adrian's first recommendation to pair the king crab legs with Nihonsakari Daiginjo Nama Genshu was a good one. This sake complemented the sweetness of the crabs and I was having a good time. Then I moved on to Shinomine Junmai Daiginjo Aiyama Muroka Nama Genshu. it was also very perfect with the crab legs to complement the crab sweetness. Next comes the magical pair. Crab legs with Kamoizumi Zoka Junmai Nama. This nama sake has a lot of umami and the contrasting taste made it a surprising nice pairing with the crab. I retired the evening with this drink and more crabs. haha. you must wander why is there a non-namasake on the table. Dewazakura Junmai Dewanosato, is my wife's favourite sake from my previous tasting, she has tasted many sake after and did not like any other except this one. So, that is my wife's pick and I am happy with it too. not as umami as the namasake but still a very nice match. If she likes it I like it too. :) I also totally enjoyed Imayotsukasa Summer Junmai Nama Genshu on the rocks. perfect drink for Singapore weather. very tasty and lovely drink.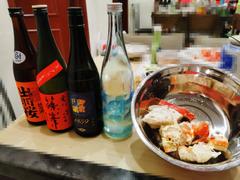 07/15/2020
Dan H.

Singapore
pleasant discovery
Very fun and pleasant evening with the blind tasting event
07/15/2020
Anonymous

Singapore
I recommend this product
One of the most interesting event attended
Very intesting and fun event
07/15/2020
Dan H.

Singapore
I recommend this product
One of the most interesting event attended
This is a very fun and enjoyable blind tasting. They designed it with a monopoly theme to make it fun and interesting too.
07/13/2020
Anonymous

Singapore
I recommend this product
Namazake is so interesting
Was a very good selection and sampling of different types of namazake. Interesting and educational