---
DETAILS
| | |
| --- | --- |
| Grade | Junmai Yamahai |
| Polishing Ratio | 58% |
| Rice Type | Gin no Yume |
| Alcohol  | 15.0% |
| Prefecture | Kochi |
| Brewery | Tosa Brewing Co. Ltd. |
SAKE SWEETNESS
DESCRIPTION
Aikawa Homare means the pride of Aikawa area in Tosa, where sake rice is harvested in the terraced paddies. Beautiful, creamy aroma, with a hint of Greek yogurt, mushrooms and hinoki wood on the palette. Dry, clean finish. Medium bodied with good umami. Also recommended Warm.   
SOMMELIER'S NOTES

This sake was made with the concept of terroir. Grown in a rice terrace near the brewery with altitude of up to 600m above sea level. Excellent example of a Yamahai sake. Pairs well with sushi and fish dishes.
AWARDS

IWC Silver Medal 2018. 
Customer Reviews
12/30/2020
Mitsui.sakenoob

Singapore
I recommend this product
I was amazed how great tasting the sake became warm
Rice - Gin no Yume Prefecture - Kochi Brewery - Tosa Brewing Company Limited Color - Light Green Aroma - Steam , , , Taste - Light Umami - Medium First impression - Lively Body - Light Sweetness - Medium Dry Tail/length - Medium Overall - First time trying a yamahai . Yamahai means lactic acid is not added but occurred naturally. With the Yamahai method, it definitely produces a varied aromas of fruits and . Also the going into this is not the common Yamadanishiki or Gohyakumangoku and is grown on terraced fields instead. ***** it chilled around 14 degree. Strong and aroma when first interacted with the nose but favor kicks in during first taste. Medium umami and length makes this a well balanced one. 3 days later decided to try this at Atsukan temperature 50 degree Celsius because it was raining the whole day. I was amazed how great tasting the sake became. The aroma was replaced by a clean crisp note of steam and alcohol which really enhances the I was pairing it with. I like it especially when one can truly enjoy 2 different ways of appreciating 1 . 亁杯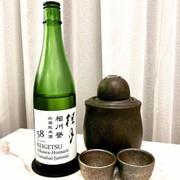 10/05/2020
Patrick A.

Singapore
I recommend this product
For a Yamahai, this is rather refined and slightly more elegant
Clear, very faint yellowish appearance (almost colourless) with high viscosity. Nose: Apple, pear, melon, fresh cream, sea-salt, fresh wood shavings Palate: Apple, pear, melon, banana, fresh cream, fresh wood shavings, white pepper, dark chocolate. Body: Medium (-) Alcohol: Medium. Umami: Medium. Acidity: Medium (-). Personal opinion: Some intensity of aroma and complexity were observed. Ginjo-ka were evident on both the note and palate (more muted on the palate). On the palate, additional spice notes notes were observed as well, though they manifest more evidently as aftertaste. Some lactic and woody-notes were also observed, though they tend to be covered by the other more predominant flavours. Sake has a medium body (smooth and light texture) and is slightly dry. Astringency was definitely present in the sake too. Some attack was felt, and it has a slightly long finish which started off as peppery-chocolate(ty) notes and gradually fades away, leaving behind the subtle wood-shaving notes. For a Yamahai, this is rather refined and slightly more elegant, probably due to the higher polishing ratio. With the slight astringency, spicy notes and the umami, it might actually goes well with grilled meat such as chicken. I also tried this with some Japanese Kimchi (for experimental sake), and it really amplify the flavours (and of course, the spiciness). I was rather surprised that the Ginjo-ka is the more prevalent notes, rather than the lactic and more gamey notes (since this is a Yamahai).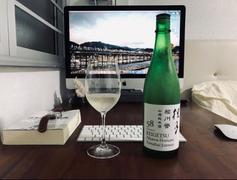 09/26/2020
Alvin G.

Singapore
07/09/2020
Guillaume K.

Singapore
I recommend this product
recommended by a friend
Good