---
DETAILS
SAKE SWEETNESS
DESCRIPTION
Clear notes of pomelo, cream cheese, rainwater on the nose. Crisp, dry and light-bodied with a subtle astringency that leads to a light finish.
SOMMELIER'S NOTES

Well integrated alcohol and a very easy drinking sake.
AWARDS

Fine Sake Awards 2022, 2021- Gold
Customer Reviews
05/28/2020
Patrick A.

Singapore
I recommend this product
Sanzen is one of those brands which you can't go wrong with
Clear, faint-yellowish hue appearance with slightly high viscosity. Nose: Pineapple, pear, cottage cheese, withered leaves, fresh cream. Palate: Pineapple, pear, fresh cream, withered leaves, nutmegs. Body: Medium. Alcohol: Medium. Umami: Medium (+). Acidity: Medium. Personal opinion: Sake has a clear, faint-yellowish hue appearance with slightly high viscosity. Some Ginjo-ka are present, but it tends to be overshadowed by the earthy/woody notes as the sake gets warmer/less chilled. Similar notes were observed on the palate, though some spice notes can be observed too. Sake has a creamy and silky texture, and feels slightly dry. It has a medium intensity of attack, with a crisp finish. Well-balance sake in terms of taste, texture, and aroma; makes it easy to pair it with a wide range of food, from maybe italian spices to stronger tasting food like Akami. I'm inclined to call it a jun-shu.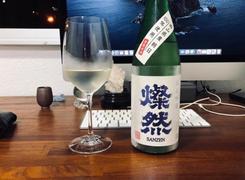 05/09/2020
Melvyn Y.

Singapore
03/09/2020
Gracie

Singapore
Sanzen Junmai Ginjo, Asahi.
Very refreshing, by far this is one of my favorite sake. It has a punch of pomelo and grapefruit notes :)