---
DETAILS
SAKE SWEETNESS
DESCRIPTION
Wildly aromatic, juicy melon, peaches with a slight hint of grass and cotton candy. Lusciously velvety texture, flavours envelope the palate entirely, complex, elegant and fruity, with just enough sweetness to assert a long finish. 
SOMMELIER'S NOTES

Very distinctive sake. Superb texture. a great example of a rich and sweeter style of Junmai Daiginjo
AWARDS

IWC Sake 2020 - Silver
Fine Sake Award 2019 - Gold Medal
Kura Master 2017 - Platinum Award
IWC Sake 2017 - Trophy Winner
Customer Reviews
05/16/2021
Anonymous

Singapore
I recommend this product
Very Good Sake
This is a clean-tasting sake with fruity and nutty scent. The texture is smooth and light while the arome is fragrant. We appreciate it very much
05/14/2021
Anonymous

Singapore
I recommend this product
Lives up to its awards
Excellent sake. Soft, light and fragrant. Explains why this sake is so popular. I'll have another!
12/30/2020
Mitsui.sakenoob

Singapore
I recommend this product
it was a hit with the lady guests, . Also good for first time sake drinkers
Rice - Yamada Nishiki 山田锦 Color - Light Green Aroma - , melon, steam Taste - Light Umami - Medium First impression - Lively Body - Light Sweetness - Medium Sweet Tail/length - Short Overall - It is my first time trying sake from Sanzen. Very Good sake. Made from 100% Yamada Nishiki rice (commonly used to brew Ginjo & Daiginjo grade ), the distinctive aroma of and melon says it all. With medium sweetness, it was a hit with the lady guests when I bought this to a Churrasco dinner last Friday. With so much roasted on the table, this light body and medium umami just kept us going all night. Served at Suzu Hie temperature, it really enhances the fruity aroma finish of the . Highly recommended if you are looking for something medium and appealing to ladies. Also good for first time drinkers of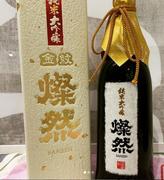 09/14/2020
Anonymous

Singapore
A sake to try
One of my favorite.
07/25/2020
Ann

Singapore
Repeat purchase
Very enjoyable drink. 2nd time buying !