---
DETAILS
SAKE SWEETNESS
DESCRIPTION
Thanks to the right balance of JDG, non-pasteurization (Nama) and original yeast, this sake contains rich flavor of rice and fresh fruity aroma (Ginjo-ka). This fresh fruity aroma is generated by Nihonsakari's original yeast. 
SOMMELIER'S NOTES

This is a very surprising sake with fresh tropical aromas with a hint of Persimmon. Due to a high tech enzyme filter, it can be kept at room temperature without spoilage. Excellent value for money.
AWARDS

Fine Sake Award Gold 2020
Customer Reviews
10/10/2020
PAUL T.
Singapore
Regret buying too early
There was a discount after I had bought it. A bit of regret.
10/05/2020
Patrick A.
Singapore
easy to drink and very value for money.
Clear, very faint yellowish appearance with slightly high viscosity. Nose: Pear, apple, melon, fresh cream, custard, yoghurt, vanilla. Palate: Fresh cream, custard, yoghurt, mandarin orange, pear, apple, melon, dark chocolate. Body: Medium. Alcohol: Medium. Umami: Medium. Acidity: Medium. Personal opinion: Intensity of aroma is medium, with some complexity observed. Ginjo-ka and lactic notes are very evident on both the nose and palate. On the palate, lactic notes featured more predominantly and the fruity notes came a bit later. Sake has a medium body (light and simple texture) and is slightly dry leaning towards some slight sweetness, which became more pronounced as it gets warmer. Some attack can be felt, and it's more pronounced with the increase in temperature too. Sake has a slightly long finish with a lingering aftertaste which hints of mandarin orange. As per most namazake, this sake gives a fresh and refreshing impression. For a junmai daiginjo, the texture and body is slightly light though, not as heavy as I thought. Overall, this is easy to drink; you can either pair it with nigiri (I think it might go well with Otoro), or have it as an evening drink! P.S. Very value for money.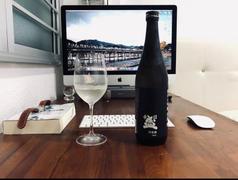 09/25/2020
Chris
Singapore
Good standard Namazake
Fruity, refreshing and sweet with a hint of complexity.
09/14/2020
Anonymous
Singapore
Sweet aromatic sake
My favority sake. Still taste very good after 1 week in the fridge.
08/25/2020
Anonymous
Singapore
Fresh and refreshing!
It has a crisp taste that is somewhat fruity. Easy to drink. Small bottle